Shopping locally is a great way to support small businesses and the community itself. It also allows you the opportunity to find thoughtful and unique gifts that can't be purchased anywhere else. You'll feel good knowing you're keeping your money in the community where it has the most impact. Read our guide of 12 places to shop locally in Orange County, CA.
1. Build a Storybook With Your Kids at StoryMakery
Let your child's imagination run wild. At StoryMakery, kids get to create and publish their own children's books. They'll create a character, write a story, and turn it into a hardcover book. StoryMakery is a boutique store that provides kids and families with a self-publishing experience. Kids get the opportunity to work with writers to help develop their stories and improve their writing and reading skills. They'll use a library of objects and backgrounds to bring their stories to life inside the publishing studio. StoryMakery is located in Laguna Hills, CA, and is open seven days a week.
2. Get Custom-Made Water Portraits Designed by Love Letters And Ink
Generic gifts are never as good as handmade gifts. But what if you're not artistic? Luckily, Love Letters And Ink has the solution. Isabel is the creative designer behind the shop, and she sells custom watercolor portraits. Simply send in a picture, and she'll do the rest! Or shop her other custom-made artwork such as coffee mugs, puzzles, stickers, and more. One of our favorites is her Nursery collection, which includes cute safari animal paintings! Located in Orange County, you can contact them directly online to get a custom quote.
3. Get Handmade Bracelets from LINX by Lulu
Are you looking for something classy yet affordable? LINX by Lulu is a mother-daughter business in Orange County that sells handmade 14k gold-filled bracelets. You can shop between dozens of designs and materials such as black onyx, sterling silver, and white glass beads. These unique bracelets can be worn all the time because they are sweat-proof, shower-proof, and even dish-proof. Their lookbook will give you tons of ideas to shop for!
4. Upgrade Your Style at Eternity Boutique
Inspired by the mission that boutique stands above the rest, Eternity Boutique was created. They sell all types of women's boutique clothing items such as tops, bottoms, dresses, outwear, intimates, and accessories. They also donate 50% of the proceeds to Camp Agape California, a camp that helps kids whose parents have been incarcerated. When you shop at Eternity Boutique, you'll look stylish and support a great cause!
5. Get Your Gift Essentials at M.Lovewell
Everyone needs gift essentials such as wrapping paper, stamps, gift cards, tapes, stickers, etc. Don't settle for mediocre. M.Lovewell is a shop in Santa Ana, CA, that sells stationery goods, and gifts, and offers workshops. They just launched their new holiday collection, which features all of the holiday essentials you'll need. Each is designed with timeless Christmas art so that you can add the perfect touch to your gifts. Or, if you know someone who loves to express their creativity, M.Lovewell offers high-quality, luxurious gift pen sets.
6. Shop Eco-friendly at SEED People's Market
Located in Costa Mesa, CA, SEED People's Market is the home to many curated eco-brands. They highlight products from artisans. Their goal is to enhance the mission of sustainable living and promote a greener planet.
At SEED People's Market, you'll be able to find winter layers and outdoor gear. If you know any nature enthusiasts, you can give them outdoor essentials such as a portable solar panel, beverage cooler, dual stoves, and more.
[SEED Peoples Market Artisan Goods and Accessories]
7. Decorate Your Home for the Holidays with Discover Inspirations
You can never go wrong with unique holiday ornaments or decor items. Discover Inspirations offers all kinds of beautiful boutique-style decor such as candles, ornaments, frames, diffusers, and more. This community-based gift shop located in Yorba Linda, CA, displays products from 74 active suppliers. Many of the pieces are awe-inspiring and add an elegant touch to your home. For the holidays, you can grab their 19oz Volcano Glimmer Signature jar, which adds a dash of winter white iconic fragrance. Or help your loved ones stay cozy with Taupe giving socks or taupe robes. Perhaps their Globe Table Top decor can give your home a gentle touch of Christmas vibes.
8. Find the Perfect Baby Gifts at Tiddlywinks
Know someone with a newborn or baby on the way? Give the baby their most memorable holiday with the help of Tiddlywinks! Tiddlywinks is the perfect spot to grab everything baby-related. This includes clothing, arts and crafts, puzzles, bikes and scooters, games, outdoor, toy blocks, toy vehicles, plush animals, and more.
9. Grab a Fresh Cut Christmas Tree at Roger's Gardens
Bring the smell and feel of Christmas with an authentic Christmas Tree from Roger's Gardens. They sell fresh-cut Christmas trees from the Sierra Nevada Mountains and Cascade Mountains of Northern California.
If you know someone with a garden, why not give them new floral decor and plants to add to their collection. You can find all types of seasonal arrangements, such as indoor and outdoor arrangements. They offer plenty of beautiful selections such as orchids, succulents, azaleas, and more. Not to mention, they all come in cutely woven baskets or pots for you to hang or place as decor.
[Outdoor Plant Nursery & Home Décor Store]
10. Wow Your Gift Recipient with Ocean-Inspired Artistic Gifts from Tuvalu
Tuvalu is a local specialty gift shop that specializes in products that exude a coastal and casual vibe. They offer plenty of unique coral and ocean-inspired products. For example, they offer luxurious-looking coral woven into wooden frames to be used as wall decor. Tuvalu offers all types of furniture, lighting, and accessories, making it an excellent place to find your holiday gifts.
[Tuvalu Coastal Home Furnishings]
11. Find All of Your Gifts in One Spot at Zilly Monkey
This contemporary gift shop is nearly as adorable as its name. Capture Instagram-worthy pics at their monkey display and find cute gifts for children and adults. They sell many pre-made Christmas gifts such as holiday soap sets, kitchen towel sets, and more. The shop has everything from home fragrance, bath and body, kitchen, and everything in between, making it the perfect gift shop for anyone.
12. Give the Gift of Health and Complexion at The Facial Works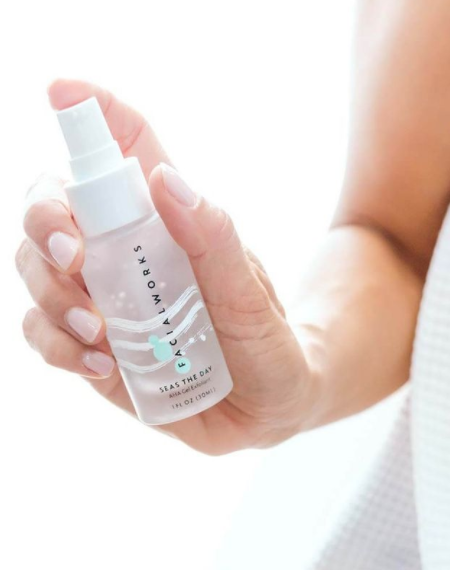 Facial Bar provides facial treatments for products in Orange County. They have four locations, specifically in Newport Beach, Huntington Beach, Dana Point, and Irvine Spectrum. The facial bar specializes in sea-to-skin and nontoxic skincare for any skin type. Bring them along for a nice holiday facial to help them improve their appearance and get soft and supple skin. Facials are an excellent treatment for getting rid of acne, wrinkles, and dark circles. Or the store sells natural facial products like moisturizers, serums, exfoliants, masks, toners, cleansers, and eye cream.